Cofresí Palm Beach & Spa Resort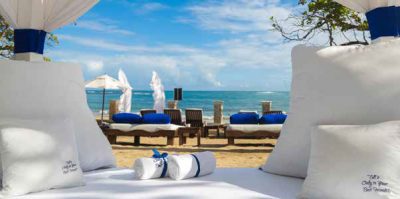 Cofresí Palm Beach & Spa Resort is part of the Lifestyle Holidays Vacation club crown. Nestled along the Cofresí shoreline, and overlooking the sparkling Caribbean Sea, this resort caters to both families and couples looking for a perfect getaway.
The resort was created with space and comfort in mind, making Cofresí Palm a relaxing, enjoyable, and satisfying experience for all guests and their families. All rooms have air conditioning, cable television, phones, and ceiling fans, while the décor has a distinctive design, featuring dark wood furnishings.
Shaded patios and verandas provide a relaxing place to gather in some of the units. Providing both the services and features that are standard for Lifestyle properties, the Cofresí Palm is a unique luxury accommodations experience. Cofresí Palm offers the easy, relaxed ambiance of the Caribbean in an opulent and elegant setting.
Accommodations
This beautiful all-inclusive resort is comprised of several sectional units that are specific to guests' vacationing requirements. The resort includes 18 exclusive, adults-only spa suites, 208 standard family-friendly rooms, 180 ocean-side rooms with a mix of king and double beds, 60 residences for long-term rentals, and 2 spectacular ocean-view penthouses.
All rooms feature modern comfortable furnishing, marble floors, air-conditioning, ceiling fans, bathrooms with marble surfaces, hairdryers, safes, mini-bars, and most have flat screen TVs. Some rooms have hot tubs, and all units have a terrace or balcony.
Studio - 3 people | Spa Suites - 3 adults or 2 adults, 2 kids | Beach Studio - 3 adults or 2 adults, 2 kids
Luxury All-In Is Our Special, All-Inclusive Concept, Which Includes:
Privileged use of all restaurants, bars, and facilities (V.I.P. areas and services are reserved for members)
24-hour food and beverages available in select locations
All meals--access to breakfast, lunch, and dinner in any of our 11 restaurants (some restaurants require advance reservations)
9 all-guest restaurants for a la carte dining (reservations may be required)
2 international buffet restaurants (no reservations required)
Daytime and late snacks located throughout the property
House wine with meals, plus beer, spirits, cocktails, juices, and soft drinks available at guest bars throughout the property
Lifestyle Cofresí V.I.P. Welcome Party
This event is a must; it will exceed your expectations in every way! Every week the resort throws the biggest and best party on the island to welcome our V.I.P guests with a vacation kickoff sure to astonish and delight you.
This party under the stars on the shores of the Atlantic Ocean is filled with a night of the spectacular--food, drinks, live entertainment, and dancing. The evening culminates with an amazing fireworks extravaganza. This truly is an unforgettable experience, and it's just the beginning of your vacation stay with Lifestyle. Welcome home!
Accommodations
Daily Price
Weekly Price
All Inclusive Daily Rate Per Day Per Person
Jan/Feb/Mar/Apr/July/Aug/Nov/Dec
All Inclusive Daily Rate Per Person Per Day
May/Jun/Sept/Oct
Cofresi Palm Beach & Spa Resort Studio
$116.91
$811.88
$70.00
$65.00
Cofresi Spa Adult Only
$140.73
$974.25
$70.00
$65.00
Cofresi Beach Studio
$156.96
$1082.50
$70.00
$65.00
Contact us today to book your stay at Cofresí Palm Beach & Spa Resort. We offer deluxe accommodations in scenic, historic Puerto Plata, Dominican Republic.